Fruit Salad with Honey Lime Dressing
This summer salad has a honey-lime dressing that goes with practically any fruit combination. Here are a few ideas we came up with using watermelon, kiwifruit, and berries, but this is definitely a salad you can make your own.
Blueberries, Blackberries, and Kiwifruit
Strawberries, Raspberries, Blackberries, and Blueberries
Strawberries, Blueberries, and Kiwifruit
Watermelon, Strawberries, and Raspberries
Watermelon, Cucumber, Purple Onion, and Coarse Sea Salt (add salt just before serving)
Recommended Products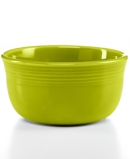 Fruit Salad with Honey Lime Dressing
Servings: Dresses 5 cups of fruit
Ingredients
3 tablespoons honey
2 tablespoons lime juice
Directions
Whisk the honey and lime juice together in a small bowl. Place the fruit in a large bowl, add the dressing, and toss gently.

you might also like
---
---
---
Avocados Barbecue Berries Cake Chocolate Fruit Greek Yogurt Healthy Ice Cream Lettuce Nuts Olives Pomegranate Sorbet Summer Tea Tomatoes Vegetables Whole Grain