Pear and Pomegranate Cobbler
Here's a modern twist on an old-fashioned cobbler. Pears and pomegranates complement each other perfectly to make this a delicious and striking dessert. The unique flavor comes from pomegranate molasses, which is deeply tangy and tart, and it turns this familiar classic into something new. This pear cobbler is also very good served warm with vanilla ice cream.
I adapted this recipe from Better Homes and Gardens Heritage Cook Book, 1976.
Don't Use Cast Iron
For this recipe, I used my Emile Henry pie dish, but it was actually my second choice. My first choice was a cast iron frying pan. I use it on occasion for a baking pan, but I didn't stop to think about the acid in the pomegranate molasses reacting with the iron. What I got was an unattractive, gray, pear cobbler that didn't taste right. I'm a big fan of cast iron, and one of my pans has been in my family for almost 100 years, but they do have their limitations on occasion, and this was one of them.
Tip
When choosing a brand of pomegranate molasses, look for one that's made with pure 100 percent pomegranate juice. We've tried other brands that include sugar and additives, and they taste different enough that it alters the flavor of the recipe. Mymouné brand pomegranate molasses is a good choice. We also like Al Wadi Pomegranate Molasses 100% Natural, which is a little easier to find.
Recommended Products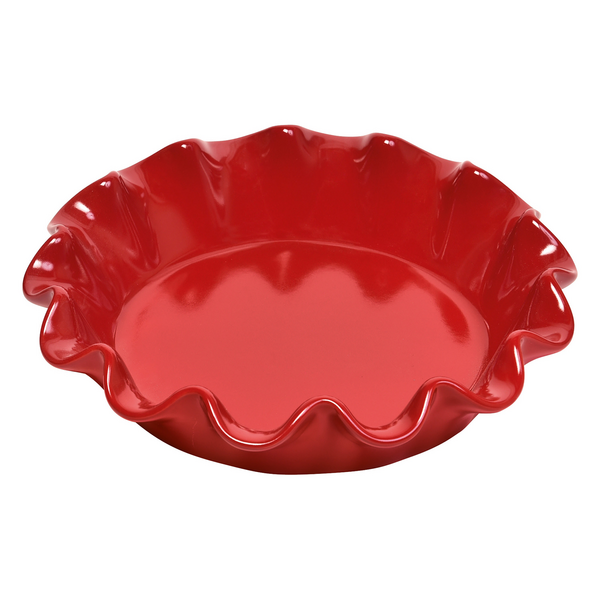 ---
MORE FROM Taste of Lime
Pear and Pomegranate Cobbler
Topping Ingredients
1 cup all-purpose flour (spoon and sweep method of measuring)
2 tablespoons sugar
1 1/2 teaspoons baking powder
1/4 teaspoon table salt
4 tablespoons butter
1/4 cup milk
1 egg
Filling Ingredients
1/2 cup packed light brown sugar
4 teaspoons cornstarch
1/4 teaspoon ground cinnamon – Explore The Spice House | Shop Now
1 cup water
1 tablespoon pomegranate molasses, made from 100% pomegranate juice (molasses with sugar and additives will alter the flavor of the recipe)
1 tablespoon butter
4 cups sliced peeled pears (about 4 to 5 pears); cut each pear into 6 to 8 slices (depending upon the size of the pear)
1/3 cup pomegranate seeds (for after the cobbler comes out of the oven)
Directions
Position the oven rack in the middle of the oven and preheat to 400 degrees.
Stir together the flour, sugar, baking powder, and salt in a large bowl. Cut in 4 tablespoons of butter until the mixture resembles coarse crumbs. Combine the milk and egg in a small separate bowl and pour all at once into the flour mixture. Stir just until combined and set aside. Don't over-mix the dough, or it will be tough.
In a large skillet, combine the brown sugar, corn starch, and cinnamon. Stir in 1 cup of water. Add in the molasses and 1 tablespoon of butter. Bring to a boil over medium-high heat and then reduce heat to medium; cook and stir until it starts to thicken. Add the pears and cook about 5 minutes more. Pour the mixture into an 8-x-8-inch baking dish, or one of an equivalent size. Spoon the dough mixture over the pears, dividing it into roughly 6 equal mounds.
Bake for 25 to 30 minutes, until bubbling and golden brown. Remove from oven and place on a wire rack to cool. Top with pomegranate seeds. Serve warm or at room temperature. The fruit filling will thicken as it cools.
you might also like
---
Top Deals
---
---
---