Salad with Mixed Greens and Garlic Bread Croutons
Topped with our garlic bread croutons, this salad is big enough to feed a large crowd, but it can easily be portioned for a smaller gathering. With a variety of mixed greens, tomatoes, olives, and pepperoncini, it's a delicious salad that's packed full of flavor.
Tips
I often add iceberg lettuce to my green leaf salads for color and crunch. I like the contrast in texture, and even though it doesn't have as much nutritional value as other types of lettuce, it does contain some vitamins and minerals.
If you make the dressing ahead of time, whisk it again before adding it to the salad. Pour on less than what you think you'll need, toss the salad, and then taste it. You can always add more, but if you put on too much, it can get soggy.
If you're making a smaller salad, keep the extra dressing in the refrigerator. It will last up to 3 days.
Recommended Products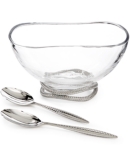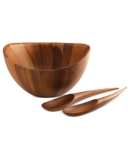 Salad with Mixed Greens and Garlic Bread Croutons
Servings: Makes about 8 to 10 small side salads
Dressing Ingredients
3 tablespoons canola oil
3 tablespoons extra virgin olive oil
2 tablespoons red wine vinegar
1/4 teaspoon crushed dried oregano
1/4 teaspoon Dijon mustard
1/4 teaspoon kosher or coarse sea salt
Freshly ground black pepper to taste
Salad Ingredients
Garlic bread, cut into about 1-inch squares (add whatever amount you like)
6 cups Romaine lettuce, torn or cut into bite-size pieces
2 cups iceberg lettuce, torn or cut into bite-size pieces
2 cups spring greens
1 pint grape tomatoes
1 small cucumber, peeled and cut into 3/4-inch cubes
3/4 cup jumbo black olives, sliced
1/4 cup thinly sliced red onions
2 tablespoons sliced pepperoncini
Directions
Make your garlic bread ahead of time. Let it cool and then cut into about 1-inch squares. Set aside.
Rinse the lettuce leaves and pat dry with a clean towel or use a salad spinner to remove as much water as possible. This prevents any water droplets from diluting the dressing.
Whisk the dressing ingredients together in a small bowl or use a jar or container with a tight-fitting lid and shake well.
Place the salad ingredients in a large bowl and toss with the dressing just before serving. Add the croutons on top.
you might also like
---
---
---
Avocados Barbecue Beans Berries Cake Chocolate Fruit Greek Yogurt Healthy Ice Cream Lettuce Nuts Olives Pomegranate Sorbet Summer Tea Tomatoes Vegetables Whole Grain