White Bean Soup with Kale
Loaded with nutrients and antioxidants, this healthy white bean and kale soup makes a comforting meal for lunch or dinner. I like to serve it with a little parmesan cheese on top and an extra drizzle of olive oil. It's a delicious and satisfying soup that pairs perfectly with some crusty garlic bread on the side.
How to Peel Tomatoes
Wash and dry the tomatoes. Cut an X into the bottom of each one, just through the skin. Fill a saucepan with water and bring to a boil. While it's coming to a boil, fill a large bowl with water and ice cubes and set aside. Place the tomatoes in the boiling water until the skins begin to loosen, about 45 seconds to 1 minute. Remove with a slotted spoon or a spider strainer and place in the ice-water bath. Using a knife, or your fingers, peel the skins off the blanched tomatoes. Cut out the stem area.
Tip
Because the stem of the curly kale is very tough, we don't want to use it in the soup. The best way to remove the leaves from the stem is to fold the leaf in half and cut the stem out. Then cut the kale leaves into about 1-inch pieces.
Recommended Products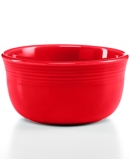 White Bean Soup with Kale
Ingredients
1 1/2 cups dry Great Northern beans
2 tablespoons extra virgin olive oil
1 large onion, chopped
3 to 4 carrots, chopped
2 celery stalks, chopped
4 garlic cloves, minced
4 cups chicken broth
3 cups water
2 sprigs fresh thyme (or 1/2 teaspoon dried thyme, crushed)
1 bunch curly kale, stems removed and discarded, leaves cut into 1-inch pieces
About 1 3/4 pounds Roma tomatoes, peeled, cored, and roughly chopped, including any juice (or one 28-ounce can whole, peeled tomatoes, undrained and cut up)
1/2 teaspoon table salt
Grated or shaved parmesan cheese, optional
Additional olive oil, optional
Directions
Sort the beans in a
colander
to remove any rocks or debris. Rinse with cold running water. Transfer the beans to a large pot or
Dutch oven
and add enough water to cover them by 2 inches. Bring to a rapid boil and continue boiling for 2 minutes. Remove from heat, cover, and let stand for 1 hour in the cooking liquid. Drain the beans in a colander and rinse with water. Set aside.
Rinse out the Dutch oven and dry thoroughly. Return the pan to the stove. Heat 2 tablespoons of olive oil over medium heat. Add the onion, carrots, and celery. Cook, stirring occasionally, until the onion is tender, about 6 to 8 minutes. Stir in the garlic and cook another minute. Put the beans back into the pot along with 4 cups of chicken broth, 3 cups of water, and the thyme sprigs. Bring to a boil, reduce heat to low or medium-low, partially cover, and simmer for 1 hour and 15 minutes.
Add the tomatoes, salt, and kale, pushing the kale down into the soup. Add additional water as needed to maintain enough broth for the soup. Bring the soup back to a boil and reduce to a simmer. Cook another 45 minutes. Discard the thyme sprigs. Season with pepper and additional salt, to taste. Ladle the soup into individual bowls and sprinkle with parmesan cheese. Drizzle with olive oil, if desired.
you might also like
---
---
---
Avocados Barbecue Berries Cake Chocolate Fruit Greek Yogurt Healthy Ice Cream Lettuce Nuts Olives Pomegranate Sorbet Summer Tea Tomatoes Vegetables Whole Grain